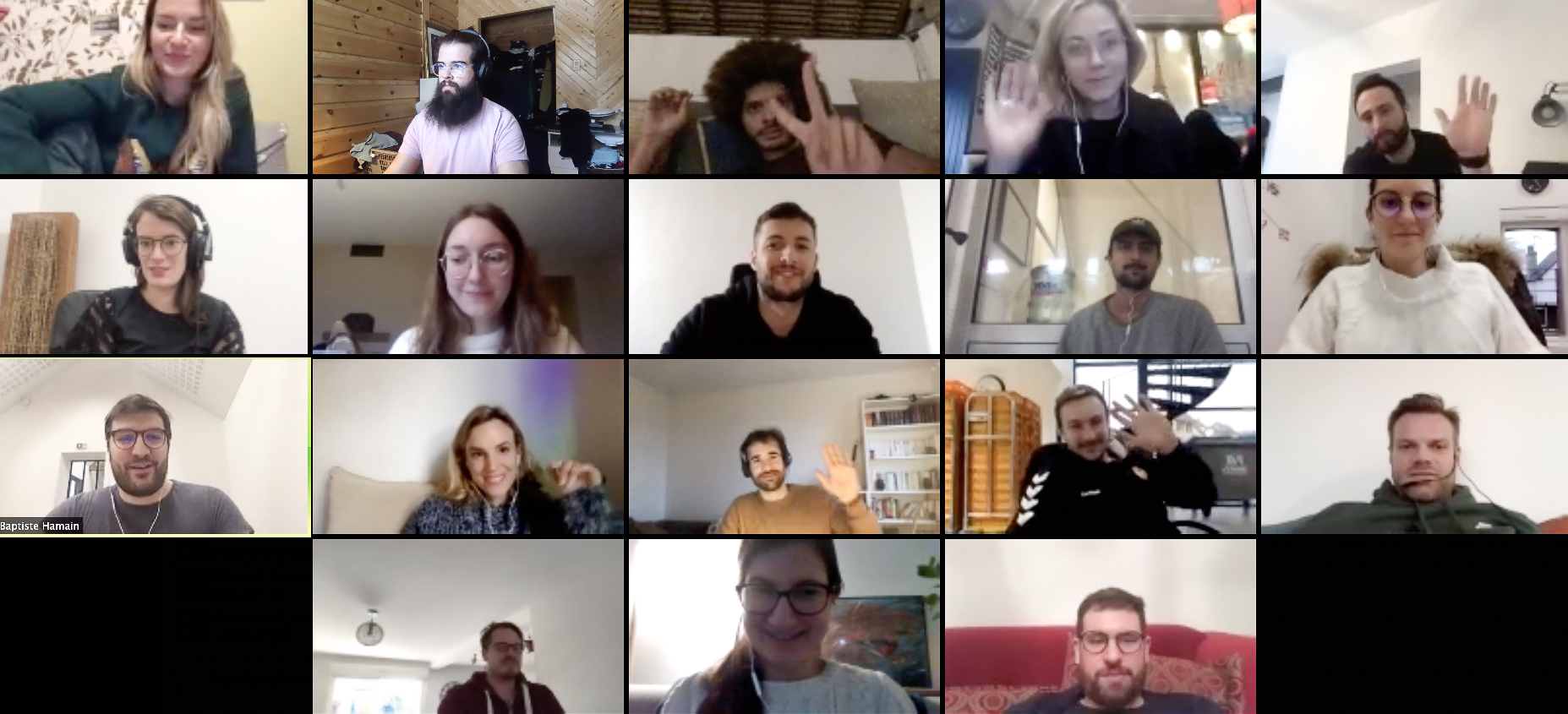 April 8, 2020
Reading time: 5 minutes
When you take your first steps in remote control, it's sometimes difficult to find your work rhythm. Some of us are freelance and work alone, but many of us are also part of a team. So, whether you're teleworking all year round, one day a week, or in a confined space, take the time to create and maintain team cohesion. You'll be happier and more productive! You don't know how to do it? How to reconcile professional and informal conversations? The Fizzer team, which has been working remotely since 2014, gives you 5 tips to maintain and energize your team life.
Allow time for informal discussions
Often, when we telework, we tend to exchange only for professional reasons. We deliver our creations, we agree, we inform. But what about discussions around the coffee machine? In remote also, they can and must exist to maintain your team cohesion. For this, several solutions exist.
Conversation channels
If, like us, you converse on a collaborative platform such as Slack or Microsoft Teams, you have the possibility to create different conversation channels: professional channels, but also informal ones! What about a channel dedicated to cooking, sports or simply a "random" channel to talk about anything and everything? At Fizzer, we have set it up and everyone posts what they want. We find passions in common, we encourage each other and finally: it's good for morale and it keeps the links alive! Our best example of team building: the Bring Sally Up challenge that one of us proposed during the confinement. Everyone took part in the game.
The coffee machine
If the written word doesn't seem to be enough, you can recreate the principle of the online coffee machine. It's very simple! At Fizzer, we have set up the "Random Remote Coffee". Every week, all team members are divided into groups of about 3 people. We meet every Tuesday at 2pm for a video conversation. The distribution of the groups is random, like at the coffee machine, and all topics are discussed. The Random Remote Coffee allows us to maintain the links between members and, we assure you, it is precious to maintain solidarity in the team.
The 1-1
Finally, if exchanges between team members are important, so are exchanges with the manager. If it is not well organized, remote access could reduce manager-collaborator exchanges to simple professional exchanges: request vs. delivery. It's not exactly a dream come true to imagine delivering in an industrial way, without contact. It's like being in an office after all! We need to exchange and humanize the relationship.
To do this, you can introduce 1-1. This exchange format already exists in many companies. However, it is important to remember that it is necessary, even in teleworking. At Fizzer, 1-1 differs from Sprint. The Sprint makes it possible to establish the professional objectives for the week. The 1-1 is dedicated to well-being. It is here that you will be able to discuss your life in telework and possibly ask for advice. It is a moment of exchange that it is important to keep. So yes, at the beginning, you wonder what you are going to be able to say to each other. In the end, the conversation just takes care of itself!
Build weekly team appointments
If everything is going well on the informal discussion side, you can focus on professional exchanges. As a team, it is important to maintain group exchanges in order to organize yourself, challenge yourself, but above all to have visibility on what your colleagues are doing. After all, you may be working on the same subject or you may be able to give a hand on a subject you have already explored. At Fizzer, we have set up two team exchanges.
The team call
The first one is a small team call: the dev team, the brand & content, the growth team. Each team meets once a week to discuss upcoming missions, prepare some projects, brainstorm. This is where we can have visibility on our respective projects but also get a reporting on what the other teams are doing. After all, what we do on our own contributes to a more global objective on which the other teams are also working! Everyone contributes to the project.
The Weekly Talk
Every Thursday, the entire Fizzer team meets during the Weekly Talk. The principle is simple. Every Thursday at 2 p.m., we connect for a video conference during which we discuss the week's figures, the progress of major projects, strategies for the coming months, etc. No one misses this appointment. It's here that we all see each other (we say hello to the camera), that we get an overview of what's going on in the company. It's thanks to this call that we feel part of a great team.
Create moments of fun
A good laugh is what strengthens a team. We laugh, we build good memories together and it strengthens the bonds. At Fizzer, we have put several things in place, intentionally or not.
The newsletter
Every month, Marine, Office Remote Manager, prepares a superb newsletter that allows us to see all the good things that have happened at Fizzer and in everyone's life: our travels, our moves, our funniest jokes. We can say it, it's the newsletter of good mood!
Geekbot
Every morning, a very nice robot welcomes us on Slack, it's Geekbot! This nice bot asks us how we are, what we have to do today and asks us a more informal question about: our hobbies, our projects, our preferences. All our answers are shared in a dedicated channel. Everyone takes the time to read them, we get to know each other, we discuss each other's answers, we have a good laugh.
Everyone's initiatives
Since the confinement, Magdalena, illustrator at Fizzer, even has fun transforming our answers into Same (a montage with our faces). The result is quite funny and its publication is expected every morning.
Finally, Fizzer chooses to set up different things to entertain the team and build a bond. Then, when the bonds are gradually strengthened, the team becomes the driving force of well-being itself. That's what team building in teleworking is all about: laughter, mutual aid, sharing and encouragement.
Be transparent
In the office, we are used to knowing what is going on through more or less formal discussions: team meetings, annual dinners etc. In telecommuting, it is equally important to establish transparency. We can never say it enough, being part of a team means moving towards a common goal. At Fizzer, we therefore share the :
the week's figures (turnover, number of subscribers, expenses…)
annual and quarterly strategies of each team
successes of the start-up and of each one of us, because it is important to be grateful to each other
team failures, to analyze the consequences of such an act and to act better afterwards
As you will have understood, being transparent means doing everything possible to make everyone feel that they are part of the mission that Fizzer has given itself. By sharing data, by giving each other positive and negative feedback, we move forward and go further together.
Create cross-team projects
There is not just one team. You are part of a small team, depending of course on your core business. We are also part of a large team, the company. So, to create strong team cohesion, it is important to collaborate with each other. After all, releasing a new product, for example, requires work on the developer side, the design side, the communication side, the printing side. Everyone is involved, and it is by encouraging inter-team discussions and projects that we will learn more about each other's jobs, the constraints of each job, and the deadlines that a task requires. By understanding each other, we work better together.
Building team cohesion in teleworking takes time, yes. There is a whole host of things that are more or less simple to set up, but the results are not long in coming. It is by increasing professional and informal exchanges that your team will get to know each other. It is by being transparent that everyone will feel concerned. Finally, it is by promoting team projects that everyone will understand each other. Team cohesion is something that is maintained and it is thanks to this that you will go further and remain productive, even when working from home.